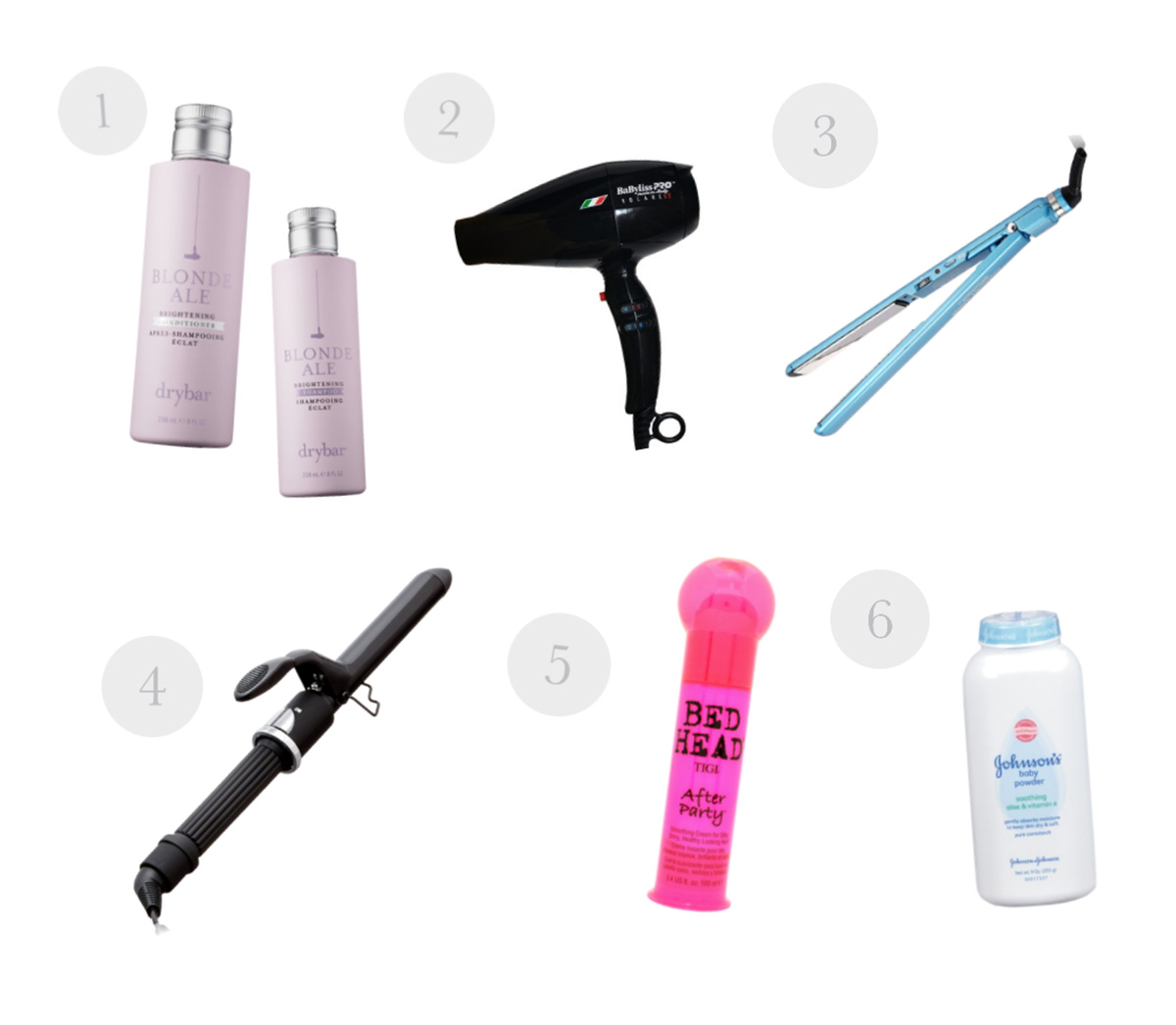 DRYBAR ALE BRIGHTENING SHAMPOO // BABYLISS PRO HAIRDRYER // BABYLISS PRO NANO FLAT IRON // BEDHEAD AFTER-PARTY CREAM  // BABY POWDER 
Here comes an extra-long post all about everyone's favorite (& most personal) accessory: hair. By far, I receive the most emails from you guys asking about my hair – how I color it, how I curl it, even how I get it up in a super-high half pony.
Today, I'll answer most of those questions by going throw my holy-grail hair products. There's a lot, so let's get into it...
DRYBAR ALE BRIGHTENING SHAMPOO & CONDITIONER - Let's start from the very beginning with shower essentials. On a day-to-day basis I'll use any hydrating shampoo and conditioner (think Biolage or Paul Mitchel – I like to switch it up.) Two to three days a week, I'll use this purple shampoo. I was skeptical about whether purple shampoo could actually lighten your hair, but trust me it does. This shampoo takes out all the yellow tones in my hair (which I hate) and keeps it looking almost white-blonde.
BABYLISS PRO HAIRDRYER - Invest in a good hair dryer, it will save your hair. I swear by anything Babyliss Pro.
BABYLISS PRO NANO FLAT IRON - I've gone through quite a few of these in my lifetime (stepped on a few, melted plastic on one, electrocuted myself with one in the UK – long story) but I always go back to this exact model. The most asked question I get on my blog is how I curl my hair – this babyliss straighter is the answer. It's thin enough that it's super easy to use as a curler and straighter. To curl, I simply clamp down on a section of hair, flip the straighter back like a curling iron, and pull through the rest of my hair. Reading that back, it's a little confusing, so my best suggestion is to watch a tutorial on YouTube on how to curl with a flat iron. I also straighten the bottom inch of my hair for the "un-done" messy look.
 BABYLISS PRO CURLING IRON -  To curl the front pieces framing my face, I use this iron. Despite the curling wand trend, I prefer this iron because you can easily use the clamp or just wrap your hair around the barrel as if it were a wand (a two-in-one).
BEDHEAD AFTER-PARY CREAM- A little bit of this goes a long way. I use a teeny about after to smooth down any baby hairs and give my hair some extra moisture.
 BABY POWDER - Okay, hands down the strangest thing on this list but also one of the most helpful. Super blonde? Baby powder is only dry shampoo you will ever need (yay it's cheap!). When your roots are starting to show,  conceal them with a bit (okay, sometimes a lot) of baby powder. The white powder instantly erases any dark roots while adding instant volume. Yes, my friends think I'm crazy - but it works.
Enough rambling on my end! If you have any more questions about my haircare routine let me know :)